Dogs are known as man's best friend. But in the years of WWII, Smoky the Dog was more than Corporal Bill Wynne's best friend – he was his heroic fellow soldier!
How Did Smoky the Dog Become Smoky the Soldier?
The 8-month-old Yorkshire Terrier Smoky, later nicknamed "Yorkie Doodle Dandy," was abandoned in a New Guinea foxhole in 1944. She definitely could fit into small spaces – including a soldier's pack. This little pup weighed in at 4 pounds, 7 inches tall – how cute!
Corporal Bill Wynne bought Smoky for a whopping $6. And he sure got his money's worth – not only did the Corporal get a best friend, he got a soldier that would save so many lives during World War II combat. 
How Smoky the Dog Survived Combat and Enemy Attacks
Smoky learned over 200 hand signals and commands to survive and alert her team of incoming enemy attacks. She was involved in 12 air-sea rescue and photo reconnaissance missions, survived 150 air raids, and to top it all off, she survived a typhoon. There was nothing this little pup couldn't handle!
Her most infamous mission was in February 1945. The US Army was in the Lingayen Gulf. Fearful of a repeated attack from the Japanese, Wynne desperately needed to send communications from his team's spot back to the headquarters base. But, there was no way to get back to base without exposing themselves to attack, Wynne found a 70-inch pipe that traveled back to headquarters. Wynne sent Smoky through, which was littered with leaking sand from above. At some points, Smoky only had 4 inches of headway! Being that little has its perks!
They tied a string with their communications on it and nervously sent Smoky on her way through the pipe. Smoky was successful with her efforts. She not only spared her team exposure to bullets, bombs, and enemy attacks, but saved them from a three-day adventure that she resolved in minutes. The soldiers also gave Smoky the best reward of all: A large steak dinner as a thank you!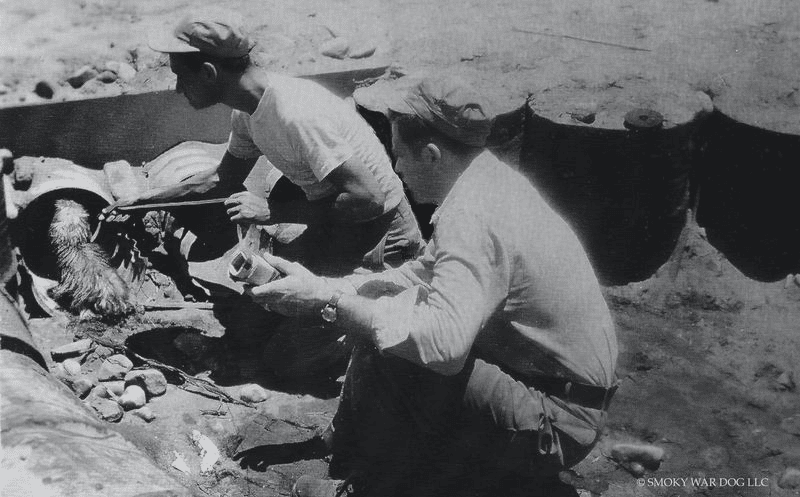 From The Battlefield To Therapy
Smoky's legacy goes far beyond her war efforts. She also became known as the "world's first therapy dog." She entertained members of Wynne's team with a number of learned tricks, as well as visiting injured veterans in hospitals to brighten up their days. Smoky also became the first dog to be awarded the honor of the Animals in War & Peace Distinguished Service medal, which is the highest honor an animal can be awarded. The president of Animals in War & Peace, Robin Hutton, commented on awarding Smoky such an esteemed honor:
"We don't think of the animal sacrifice in war, but what they have done is truly stunning," she explained. "The soldiers they serve with become their 'pack,' so they do these fierce feats because they want to please and out of love and devotion they have for their handler. They prove themselves time and time again."

– Animals in War & Peace President Robin Hutton on honoring Smoky
Honoring Smoky's Legacy
Unfortunately, Smoky died on February 21st in 1957. Corporal Wynne buried his best friend in a World War II .30 caliber ammo box in Rocky River Reservation in Cleveland. She was later moved to the "Smoky and Dogs of All Wars" memorial in 2005. The memorial honors Smoky's legacy of being a loyal, dedicated war dog and first therapy dog. Learn more about the heroic, wonder dog Smoky with this brief video!