To get a glimpse of the past that is more than a simple black and white photo will get any history buff's heart rate up. While historical photos are fascinating in their own right, there's an almost magical quality to unearthing historical figures on film. Revealing how they behaved, how they moved through the world, to see what their presence was actually like, is a rare treat. Thanks to inventor and film innovator, William Kennedy Dickson, and film editor, David Martin, we have the pleasure of seeing the earliest born person captured on film in 1896: Pope Leo XIII.
The Man Who Captured Pope Leo XIII on Film
William Kennedy Laurie Dickson, born August 3, 1860, in Brittany, France, but of Scottish descent, was a film innovator that eventually began working closely with Thomas Edison.
As the Edison company's official photographer, Dickson was responsible for developing Edison's new device known as the kinetoscope, an early motion picture device.
In 1895, Dickson founded the American Biograph Company with his partner, Herman Casler. There, Casler invented a new camera, the Mutoscope, according to Dickson's design. Dickson and Casler's innovation and meticulous improvement of Edison's designs, made the American Biograph Company Edison's chief rival in the nickelodeon peep show market.
While Thomas Edison's legacy is well documented and quite exceptional, it was in fact a Biograph camera that captured the earliest born person on film, who just so happened to be the Pope.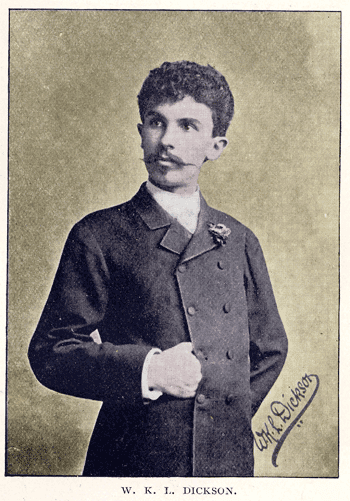 How the Pope Was Captured on Film
It may be surprising to some that a pope would be the earliest born person displayed on film, rather than a prominent entertainer or the filmmaker himself doing a test run.
But the papacy, with its pomp and holy regality, paired with Pope Leo's XIII mission to modernize the Catholic Church by becoming a public voice on social issues, actually provided the perfect opening for Dickson to make history.
According to William Dickson, Pope Leo XIII's inner circle of Roman Catholic prelates and advisors were so enthralled with the successes of Dickson's Biograph camera that they wanted to bring the Pope to the masses via film.
But more than just a vanity exercise, the papacy wanted to reach out to the average Roman Catholic, "thousands upon thousands of whom would never otherwise be enabled to receive the Pope's benediction," according to Dickson, who spoke on the subject to Royal Magazine in 1901.
After months of extensive negotiating, William Dickson would add Pope Leo XIII to his list of famous and influential figures caught on film.
In the spring of 1896, Dickson and his cameraman Eugene Lauste, captured Pope Leo XIII on film in various distinct scenes as seen in the film above.
Pope Leo XIII appears open to the camera, whether he is arriving in his carriage, or taking a seat flanked by officials and Italian Cardinal Francesco Salesio Della Volpe, recognized by his receding hairline and spectacles.
The most striking moments of this groundbreaking film, however, occur when the Pope lifts his hand to motion the apostolic blessing, both to the masses but seemingly to the camera itself, an invention receiving an air of holiness in this context.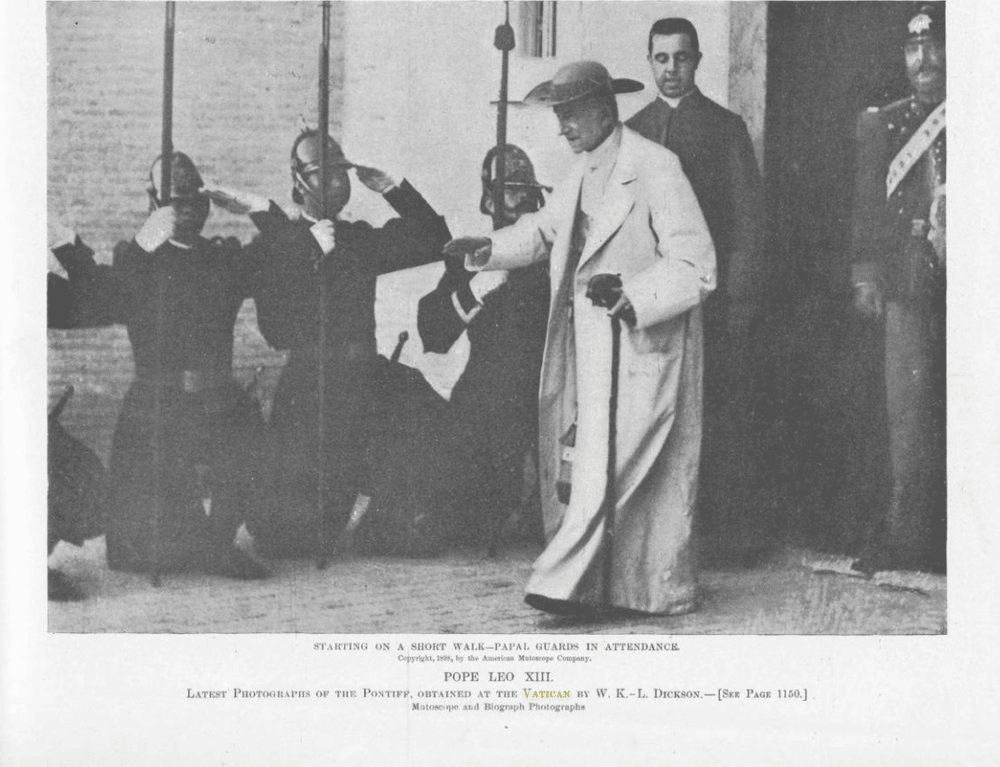 More On the Person In Front Of the Camera: Pope Leo XIII
Being the first to capture a pope on film is a remarkable accomplishment in itself, but it's important to underline just how far back in history Pope Leo XIII's world was.
To put it into context, Pope Leo XIII was born on March 2, 1810, the same year Chopin was born and the same year Napoleon Bonaparte married Marie-Louise of Austria. In 1896, the year the film was captured, Utah was admitted as the 45th U.S. State, and the landmark Plessy vs. Ferguson decision was reached by the U.S. Supreme Court.
William Kennedy Laurie Dickson, who improved upon the camera design of his predecessor Thomas Edison, made a name for himself by capturing influential figures on film.
His innovative skill and prominence in the field, awarded him a chance to make history: capturing the earliest born person on film, Pope Leo XIII.