Film animation, from Pixar to The Avengers, is so common within modern film that its novelty tends to wear off. It can be easy to forget that animation in its early forms was actually a marvel of ingenuity, timing and technological advancement. Most notably, rotoscope animation pushed the limits of what film and photography could become.
It depicts human experience (our thoughts, emotions and behaviors) through a combination of live-action and illustration, to make the artist's vision a moving reality. Rotoscoping in many ways is the foundation of modern animation, a technique that, in its execution, can be difficult. But in principle, it is quite straightforward.
What is Rotoscoping? 
Rotoscoping is a technique used by animators to trace over motion picture footage. The artist will draw over the footage, frame by frame, to portray realistic movement and action when played through.
This technique was invented by Polish-American animator Max Fleischer. In 1915, Fleischer invented this with the goal of creating animation that had more realistic movement and texture. He would project photographs of live-action onto a glass panel and trace over them.
The rotoscope is the equipment he used to pull it off (see below).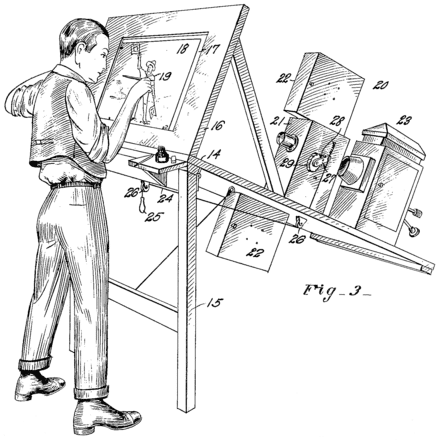 A Breakthrough in Rotoscope Animation
Earlier forms of animation were more like herky-jerky drawings rather than the fluid movement seen in movies like in Disney's first feature-length animated film, Snow White and the Seven Dwarfs.
Early rotoscope animation really was a breakthrough because it allowed for more complex movements to be depicted, while saving a lot of time. Why? Because not everything had to be drawn by hand.
Rotoscoping is also used in live-action films, when filmmakers create a matte to extract an object or individual from a scene so it can be used in a different background. Examples of this can be seen in films today like Guardians of the Galaxy or A Scanner Darkly.
Rotoscope is synonymous with Max Fleischer. He famously filmed his brother Dave dancing in a clown suit to capture the first rotoscoped cartoon ever: "Koko the Clown."
This dancing clown was an animation marvel because Fleischer's predecessors were never quite able to capture the realistic qualities of body movement, depth of field and dimensionality that he did with Koko.
In this video you can see how realistic Koko's movements are: 
Rotoscope Animation Today 
Fleischer's patent expired in 1934, which meant that anyone and everyone was free to use his technique. Rotoscoping today has come a long way from tracing photos over glass.
Now, there's plenty of rotoscope animation software available for aspiring filmmakers and pros like James Gunn, who relied heavily on a real-life raccoon named Oreo to portray the precise movements of the raccoon in the film.
This combination of live-action footage with rotoscoping techniques is where rotoscoping today is most commonly seen. Partial rotoscoping allows artists to use tracings from live- action footage and then supplement it with caricature drawings to exaggerate certain features and body movements. This enables them to create realistic animated characters while maintaining a unique drawing style. 
Early rotoscoping remains one of the most fascinating origins of modern film and illustration. The blending of drawing and live-action footage has helped create some of the most unique and powerful films to date!