In the time of circus acts and big tops, the Kremo family was a huge name over 2 centuries. The circuses back then were similar to the ones today but featured remarkable icarists. An icarist is someone who excels in the art of Risley acts. Risley acts are incredible performances where an acrobat lays on his back and juggles various objects like barrels and even people. The trust and execution of these acts must be done perfectly, and the Kremos were one of the best.
The Beginning of Kremo Show Business
Josef Kremo (Kremka) was born in 1854 and was of Czech descent during a time where Czechoslovakia was a part of the Austro- Hungarian Empire. He left home at only 10 years old and decided to go into variety and the circus. Trying to navigate the world in your twenties is hard enough but trying to make it at only 10 would be a completely different story. One year later he began living and training with Johann Karl Schaffer, in Vienna Austria. The Schaffer's (stage name Scheffer's) were an Austrian family with the best Risley act of the late nineteenth century. Johann treated Josef like his own son, pushing him to be the best of the best. In 1863, Josef left the Schaffer family on good terms and was determined to make it on his own. The next few years he worked as an artist and in 1880 he married Franziska Allinger, a famous Austro- Hungarian Equestrian.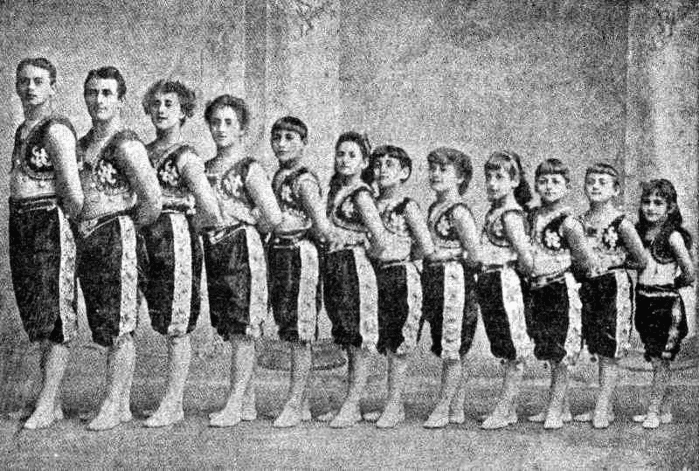 It's a bird, It's a plane, It's the Kremos
Together they had 13 children. In birth order they included, Sylvester, Karl, Elvira (Ella), Karolina (Lina), Eugenie, Mark, Franziska, twins Victor and Leon, and Siegfried who died very young. The kids were exposed early to their family business and by the age of 4 they were skilled acrobats. If I tried to do a cartwheel I would certainty break a hip, but not the Kremo clan. Their skills from this early age included doing cartwheels, dancing, hand and headstands, as well as stilt walking. It is said that at least three of the Kremo kids could perform a triple somersault on the feet of Josef. In all the years that Risley acts have been alive, this still remains the hardest trick of the art. That's an impressive resume if I have ever seen one.
As their skills improved, more and more children were added to the "Kremotruppe Ikarische" (Kremo Icarists). At their peak, 12 children were involved in the troupe and their act "Stilt walking on the skyline" was a fan favorite. Josef also incorporated his trapeze, tightrope, and contortionist skills into the act. Their acrobatics were for all ages, and the stunning imagery brought excited viewers from all over. The family act dissolved in 1915, a few years before Josef's passing. Josef Kremo died on December 26, 1917 after being confined to a wheelchair due to illness.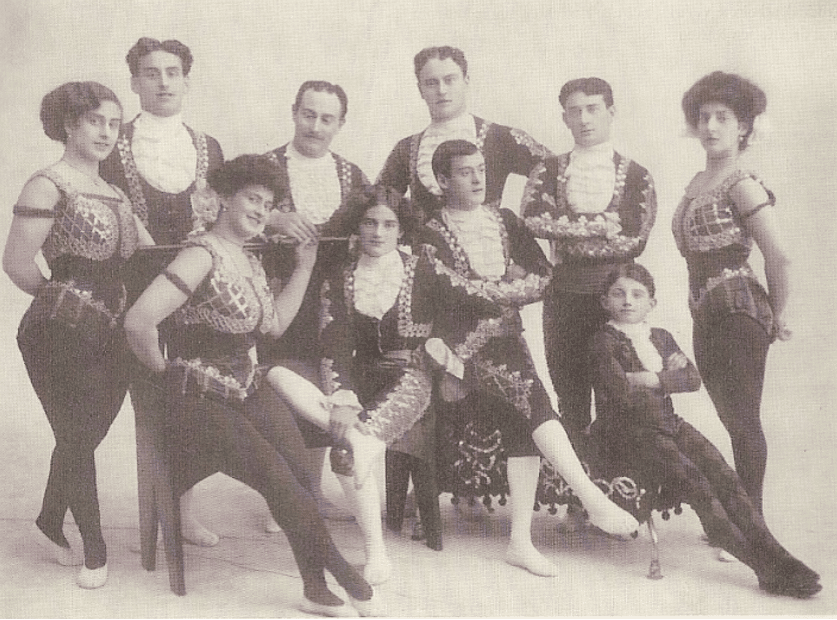 A Family Legacy
Sylvester continued his father's business and created the Sylvester Kremo Family troupe which consisted of Sylvester and his daughters, Sylvia and Selna.
Karl Kremo created his own troupe which utilized the skills of Karl himself, his brother Mark, his wife, their children and occasional partners. Similar to the original family act the Karl Kremo Family became a huge success and toured until the 1930's. One of his son's Bela Kremo became a world- famous juggler.
Elvira Kremo debuted as a dancer in Graz, Austria before the First World War as a dancer. Her act included the deadly jump on the rope, a jump that only she performed at the time.
Bela Kremo had a son, Kris Kremo who is the great grandson of Josef Kremo. He is currently the last representative of the Kremo artistry. Kris is world known for his special skill of juggling three balls, three hats, and cigar boxes. His unbelievable ability has earned him the names "King of the Jugglers" and "Gentleman-Jongleur". In 1994, he went back to Germany to visit his ancestor's home and visited with his remaining relatives.