The Olympic games are built on the premise of showing up for your country and being proud of the land that you call your home. In 1936, the Olympics were held in a Nazi Berlin, Germany. 3 years before the start of what would be the deadliest war in history, infamous Adolf Hitler hosted the games to show just how powerful the nation he created had become. Under his leadership, the games were supposed to be a display of Aryan superiority that no one could surpass.Insert Jesse Owens, an African American track force to be reckoned with. That year he walked away with gold medals in the 100m dash, 200m, long jump and the 4 x 100m relay. He was the first American to ever win 4 medals at a single Olympics and his heroic performance was adored by both German and American people. This would be the first time America would trump Nazi Germany, the second coming years later with the fall of Adolf Hitler's regime.
A Remarkable Start for Owens
Jesse Owens was born on September 12, 1913 in Oakville, a small town in Alabama. He was the youngest of 10 children. Owens' parents were sharecroppers and his grandparents had been slaves before the outlaw of slavery in America in 1865. Much of his early life in Alabama was spent going to primary school and picking cotton with his family.
When he was nine, his family moved to Cleveland Ohio in search of better opportunities. This move was concurrent with the Great Migration that was happening in the United States for the early decades of the 1900's. Owens began working at a young age, and his work ethic was impeccable. He held jobs common in the Industrial North such as a steel mill worker, and loading freight cars. During this period of odd jobs, Jesse found his passion in running.
He participated in junior high track at Fairmont Junior High School and excelled in running just as he done in his work. His coach, Charles Riley, would allow him to practice before school since Jesse worked after school. Owens would later attribute his success in track to the time he spent with Riley. His encouragement and coaching technique pushed Jesse to be the best athlete that he could be.
Jesse continued running in high school where he first got national attention. He participated in high school track at East Technical High School in Cleveland where he tore previous records apart. At the 1933 National High School Championship in Chicago Illinois, Owens ran a 9.4 second 100 yard dash tying the world record. He also long jumped 24 feet 9.5 inches in the long jump.
Higher Education, Insane Records
Owens continued his education at the Ohio State University. His exceptional athleticism earned him the nickname the "Buckeye Bullet" and it was here that he won eight NCAA championships. Even though Owens was equal on the track he dealt with a very segregated, racist America. His athletic pursuits were without any scholarships so he worked part time and he had to use segregated hotels and restaurants for "Blacks Only".
On May 25, 1935 Jesse Owens solidified his place in history. During the Big Ten meet at Ferry field in Ann Arbor, Michigan, he set 3 world records and tied a fourth. He equaled the world record for the 100 yard dash at 9.4 seconds. Additionally he set the world record in the long jump (one that would last for 25 years), the 220 yard sprint and the 220 yard low hurdles.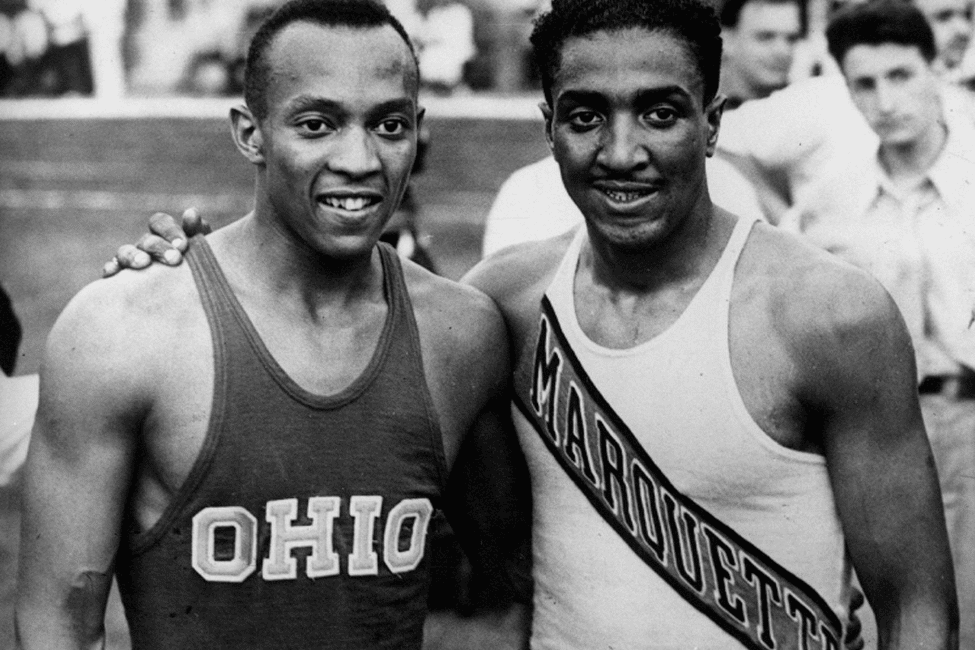 Showing Up for His Country
Owens was originally not going to participate in the 1936 Olympic Games. He was convinced by the NAACP to declare that he would not be competing as long as minorities were being discriminated against. However, he ended up going.
Alongside his teammates, Owens traveled via the SS Manhattan and arrived in Germany. Here he was able to stay amongst his white partners. The next day the team traveled to the stadium. Jesse's teammates still recall many of the girls in attendance muttering "Who is Jesse?:, "Where is Jesse?".
A fan favorite, Jesse competed in the 100m dash on August 3rd. He won gold with a time of 10.3 seconds defeating a college friend of his, Ralph Metcalfe. He continued his success the next day winning the long jump with an impressive 8.06 meters. On August 5th, he competed in the 200m sprint and received a time of 20.7 seconds. This was enough to defeat his fellow American competitor Mack Robinson. Almost a week after his first gold medal, Owens would win his fourth and final medal of the 1936 Olympic Games in the 4x 100 m relay.
Owens had shown up for his country sweeping away the competition. Hitler received backlash in multiple American articles for not congratulating the American participant. In a response by Owens, he said that he and the German chancellor did share a wave once in passing but that was it. Years later, Nazi minister Albert Speer would write that Hitler "was highly annoyed by the series of triumphs by the marvelous colored American runner, Jesse Owens. People whose antecedents came from the jungle were primitive, Hitler said with a shrug; their physiques were stronger than those of civilized whites and hence should be excluded from future games."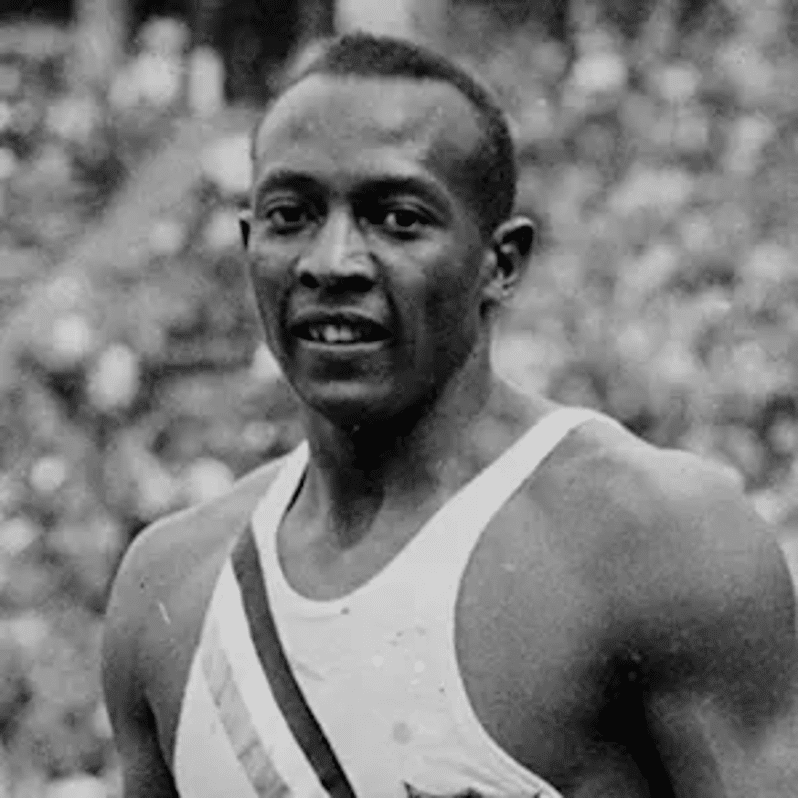 The Death of a Legend
In very yin and yang fashion, Jesse Owens' incredible health declined due to his love of cigarettes. Once an incredible athlete with pristine lungs, Jesse became a pack a day smoker at the age of 32. In December 1979, he was hospitalized due to an aggressive form of lung cancer. He died at the age of 66 in Tucson, Arizona after he succumbed to the horrible disease. He was surrounded by his wife and family and was buried in the Oak Woods Cemetery in Chicago.
4 years after his death, a street in Berlin was renamed in his honor. This was to commemorate the great display of athleticism during Germany's arguable darkest time. He was also posthumously awarded the Congressional Gold medal in 1990. Many of the records of Jesse Owens have been broken in the years since his amazing career. However his stellar performance in both a broken America, and the hostile 1936 Olympic Games have earned him a spot in history that will last forever.