No picture is more late 80's and early 90's than this one. This photo showcases so many icons from Macaulay Culkin to Reebok sneakers to a DeLorean. 10-year-old Macaulay Culkin, best known for his role as Kevin McCallister in the Christmas classic movie, Home Alone, is photographed standing next to a DeLorean car.
Macaulay Culkin: An Iconic 90s Movie Star
At this time Macaulay Culkin was just on the cusp of reaching global stardom as he rose to becoming one of the most-well known child actors. Culkin dominated the 1990s as being Hollywood's "it" kid and making audiences fall in love with him in his starring roles in both Home Alone and Home Alone 2, as well as My Girl and Richie Rich.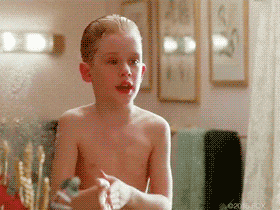 Why This Photo Is So Iconic
Culkin is pictured with the DMC DeLorean vehicle. You probably recognize this car from the Back to the Future films. As a refresher, this was the car turned time-machine that Doc and Marty McFly used to go, well, back to the future.
The gull-wing doors and the fact that time-traveling Marty McFly drove around in the DeLorean made it the dream car of every 90's kid. I mean who doesn't want to skirt around town in a time machine? And to top it all off – Macaulay is rocking the Reebok Pump Twilight Zones. The Reebok Pump Twilight Zones originally launched with the price tag of $170 for a pair. But Malcuay wasn't the only name in Hollywood to rock these shoes. Atlanta Hawks small forward, Dominique Wilkins, played in these sneakers on the court during the 90s.
All the pieces that make up this photo from the Home Alone movie, Back to the Future Part 3 movie, and Reebok Pump Twilight Zone sneakers – were all released in the year of 1990!
Man, this photo makes me feel old.