Over 1 million people around the world finish running a marathon each year. That is close to 0.01% of the global population. So, that is 0.01% of people willingly sign themselves up to train and endure running a 26.2 mile long race. That's some crazy sh*t right there! And about one-third of marathon runners are women. 34.82% to be exact. But, this wasn't always the case. When Kathrine Switzer was running the Boston Marathon in 1967, women were not accepted in the world of running with open arms. 
Here's the brave story of what happened when Kathrine ran the Boston Marathon in 1967.
Who Is Kathrine Switzer?
Kathrine Switzer was born on January 5, 1947, in Amberg, Germany. In 1949, her family moved to Virginia. She played a lot of sports and ran a mile every day. Finding empowerment and enjoyment from running, she began her track career at Lynchburg College. After transferring to Syracuse University, Kathrine began running longer distances to train with the men's cross-country team. Kathrine's aspirations didn't stop there. She had dreams of running the Boston Marathon. At the time, no woman had officially completed the marathon race.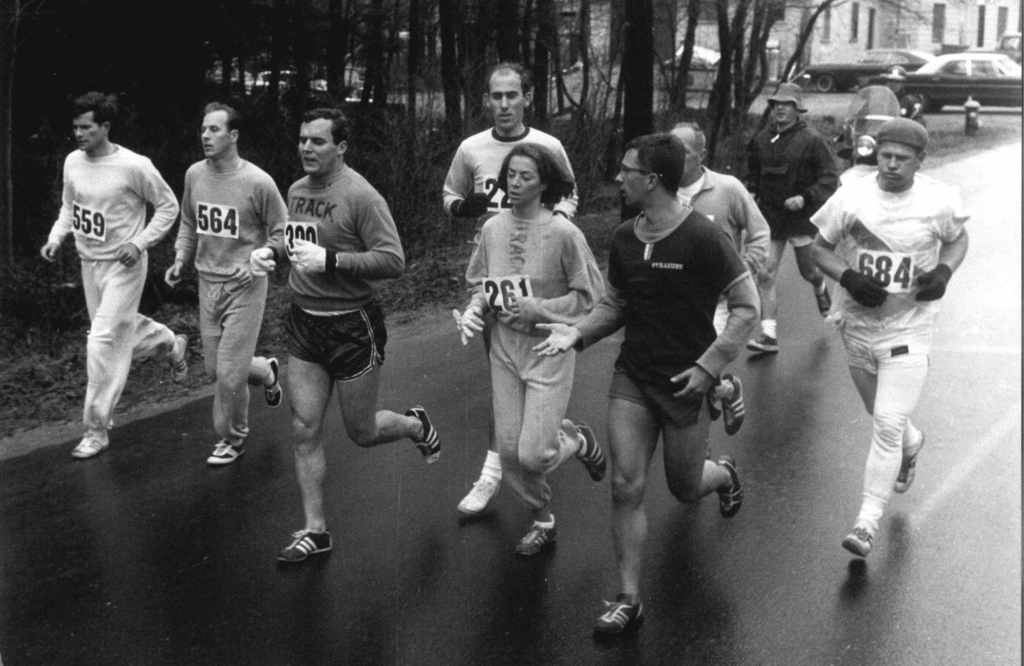 Leading the Way for Kathrine
The year prior, Bobbi Gibb was the first woman to run and finish the Boston Marathon. But, she wasn't officially entered as a runner in the race due to being disqualified because she was a female. But that didn't stop her from running the 26.2 miles. Bobbi hid in a bush near the marathon start line, wore a hoodie to cover her identity and raced alongside the other marathoners. She completed the race, but unfortunately, her time was not recorded down.
This story didn't deter Kathrine. She entered the race using her initials, "K.V. Switzer." This kept her gender unknown on the entry form, and her bib was registered. After paying a $2 entry fee, K.V.Switzer was ready to race against over 600 runners!
K.V. Switzer Races The Boston Marathon
The Boston Marathon took place on April 19,1967, in less than ideal weather conditions. It was cold, wet, and snowy. But, that didn't dampen Kathrine's excitement. As fellow, male runners were getting hyped at the start line, they were the least bit fazed by Kathrine's presence. Quite the opposite – they were beyond supportive!
The race began and everything was going smootly. However, a press truck pulled up a few miles into the race. The photographers realized Kathrine was a female and began shouting at her:
"What are you doing in the race? What are you trying to prove?"
As odd as the interaction was, Kathrine continued on. Next, a bus full of the race officials pulled up. The Boston Marathon's co-director, Jock Semple, hopped onto the course. And no, he wasn't looking to run the remaining miles. He raced toward Kathrine to stop her from running! He was grabbing at her bib, yelling:
"Get the hell out of my race and give me those numbers!"
Kathrine tried to get away from Jock's grip as her coach yelled at the co-director that she was a trained athlete. Luckily, her American football-player boyfriend, Tom Miller, was running alongside her at the time. Miller shoulder-checked Jock, which blocked him from removing Kathrine's numbers from her sweatshirt. Talk about a good defense line!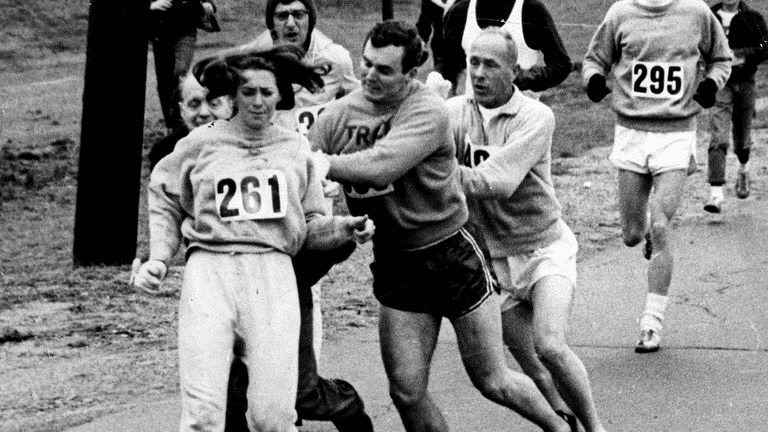 As rattled and distressed as Kathrine was about the back-to-back attacks, it didn't show in her performance. She continued on and finished the marathon. Her finishing time was around 4 hours and 20 minutes. Thus, she became the first woman in history to officially receive a bib and complete the Boston Marathon.
What Did Kathrine Switzer Have to Say After the Marathon?
When recalling those attempts to stop her from racing, Kathrine admitted:
"I was so afraid. I'm so full of confidence now but at that moment, I had just turned 20. As a girl, I wasn't trying to prove anything. I had proved to Arnie [her coach] that I could do the distance and the reward was to go to Boston."
She also recalled:
"Back then, there was no New York, Chicago or London Marathon. And outside the Olympics, for runners, Boston was the 'big baby' and a special thing. I wanted to be a part."
Despite what the press or race officials believed, Kathrine wasn't trying to make her entry in the marathon as a political statement.
So that begs the question: Why did she put everything on the line to race then? It was a combination of her love and ability to race long-distance, mixed with already running 31 miles during training. But, ultimately, it was the desire to prove to her coach that she, along with other female runners, could run a marathon.
When Did The Boston Marathon Accept Female Runners?
In 1972, the Boston Marathon officially began accepting female runners. Kathrine ran the Boston Marathon again. This time, she completed it in 2 hours, 51 minutes, and 37 seconds, A personal best!
Kathrine went on to become an icon in the world of women's running. She wrote a memoir titled "Marathon Woman," along with other books. She also contributed to the Runner's World magazine, providing commentary for the Olympics, and received many honors for her contributions.
Her love for running didn't simmer as she continued to race, winning the 1974 New York Marathon and running in the Boston Marathon, 50 years after her initial race, at the age of 70!